PTC welcomes Iloilo City Government Officials
MARCH 10, 2023



Iloilo City Disaster Risk Reduction and Management Office Head Ms. Donna Magno, together with Iloilo City Public Information Office Head Ms. Lucy Sinay visited First Maritime Place on March 9 to meet with executives of the PTC Group. They were welcomed by the PTC RISE Program Team headed by Talent Acquisition Group (TAG) Program Manager Hector Brizuela, together with TAG Personnel.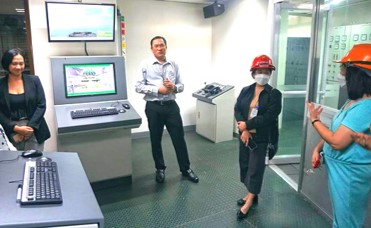 PTC's Head of Strategic Planning Mr. Marcus Leslie Suntay facilitated a presentation on the PTC Group. Ms. Magno and Ms. Sinay were then given a tour of Philcamsat, led by Philcamsat Business Development Assistant Manager Ms. Sheila Samantha Tidon, where they get to experience the simulators which they appreciated and enjoyed.
After the tour, Ms. Magno and Ms. Sinay met PTC Executive Managing Director Ms. Christina Salinas Manzano who expressed her appreciation for the Iloilo partners' support of the RISE Program and other PTC initiatives being activated in the city.

Ms. Magno happily shared that the RISE Program has helped capacitate Ilonggos in Disaster Preparedness and Resiliency and influenced local citizens to take part in and contribute to the city's Disaster Preparedness efforts and initiatives.
Keywords/Tags
PTC, Iloilo City Government, local government partnership, public service, infrastructure development, transportation solutions, project management, urban planning, government collaboration, community development