PTC reiterates support for Just Transition at NMP's Maritime Research Forum
JUNE 23, 2023
PTC Crewing Manager, Mr. Dean Anthony Canson Jr, and Family and Crew Relations (FCR) Service Assistant, Ms. Daisy Millan participated in a Maritime Research Forum at the Berjaya Hotel Makati last June 22. The event was organized by the National Maritime Polytechnic (NMP) to provide a venue for NMP researchers to present the results of their research in the maritime industry to industry stakeholders. The forum is also designed to elicit a discussion and exchange of ideas on the implications of the research findings to policy and program review and development towards improvement of the country's maritime manpower development.

Atty. Jerome T. Pampolina, Assistant Secretary, Office of the Sea-based Concerns, Department of Migrant Workers (DMW), welcomed the participants and expressed optimism about the outcome of the forum. "We are confident that the insights and knowledge shared in this forum will lead to a new and innovative solution that will benefit Filipino seafarers and our policymakers," he said.

Two completed NMP research in 2022 entitled "Profile of Filipino Women in Maritime" and "Factors Contributory to Stress of Filipino Seafarers Onboard Ocean-going Vessels" were presented at the event. NMP also released its research agenda for 2023-2025.

In the open forum, Mr. Canson highlighted the need for a policy framework for a Just Transition toward environmentally sustainable economies and societies for all. "I suggest to the National Maritime Polytechnic to conduct research regarding a safe and human-centered approach leading to green shipping. Its findings and recommendations can help our policymakers develop a regulatory framework to answer the universal call towards a green economy," he said.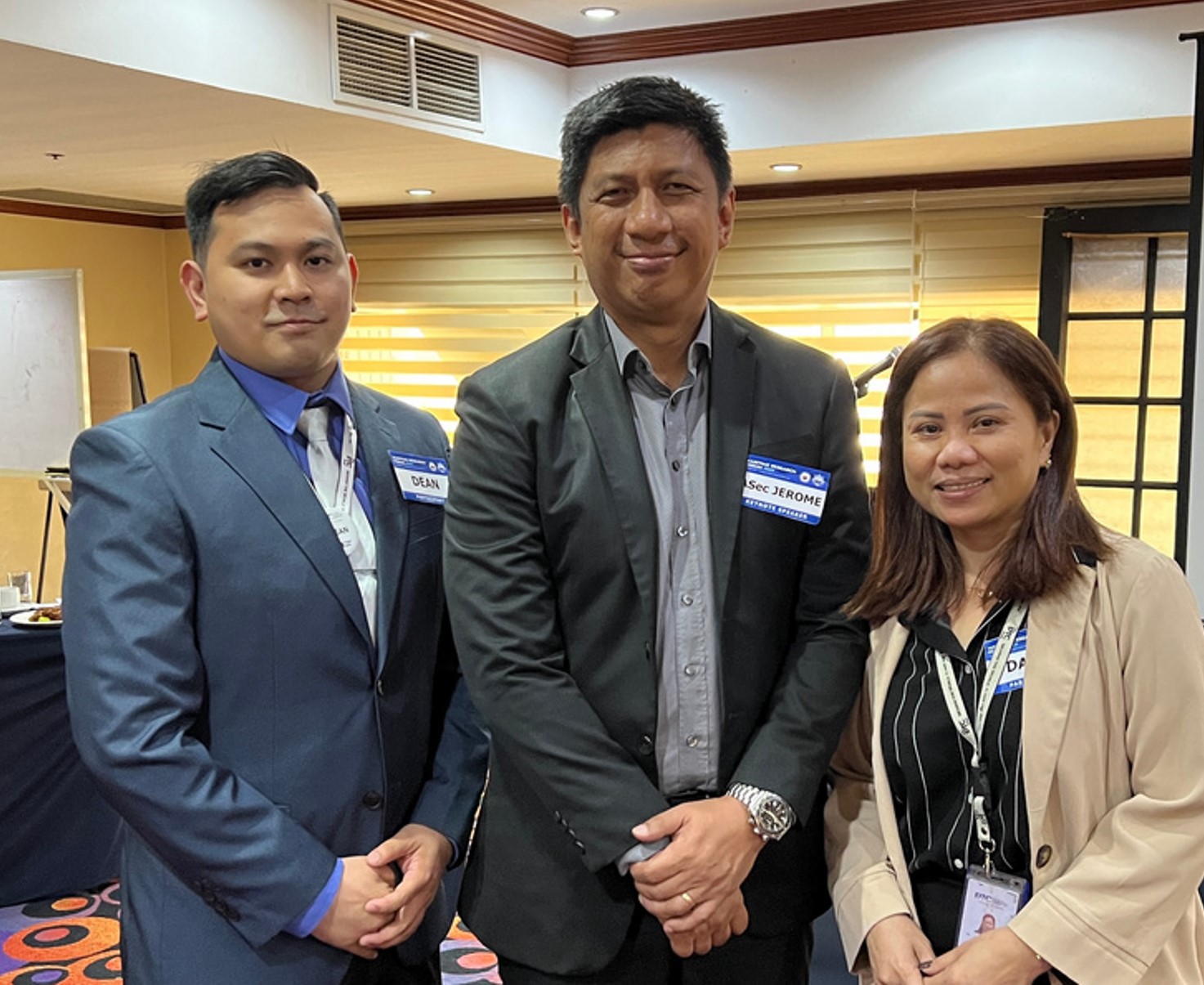 During the 102nd session of the International Labor Conference in 2013, the team adopted a resolution and a set of conclusions concerning sustainable development, decent work, and green jobs putting forward a policy framework for a Just Transition towards environmentally sustainable economies and societies for all. In 2021, the IMO Secretariat, along with the International Chamber of Shipping (ICS), the International Transport Workers' Federation (ITF), the United Nations Global Compact, and the International Labour Organization (ILO) came together to launch the Maritime Just Transition Task Force which marks the first global sectoral task force dedicated to a Just Transition.


PTC Representatives with Atty. Jerome T. Pampolina
In response, Ms. Zenaida Eugenia D. Palita, Senior Science Research Specialist of NMP invited all stakeholders to work together in support of Just Transition. "We cannot do it by ourselves and we would like to engage everyone to participate and collaborate with us," she said.

Participants were also requested to list down other research topics that can be included in NMP's research agenda. "Working for our Global Maritime Professionals and their families for quite some time, I became so much passionate about a study that talks about a comprehensive protection for seafarers, before, during, and after employment," Ms. Millan shared.

In her closing remarks, Ms. Mayla Macadawan, Officer-In-Charge Executive Director of NMP, expressed her gratitude to the organizing committee and participants. Parties who wish to participate in these research initiatives are invited to get in touch with the NMP Maritime Research Section through its e-mail address,nmpresearchteam@gmail.com, and/or contact nos. +63 947 766 4377 or +63 968 260 1929.

NMP was established on May 1, 1978, by virtue of Presidential Decree No. 1369 to address the continuing changes, innovations, and development in the maritime industry, and continuously develop the skills and competence of Filipino seafarers. In 2022, NMP was subsumed under the Department of Migrant Workers by virtue of Republic Act 11641.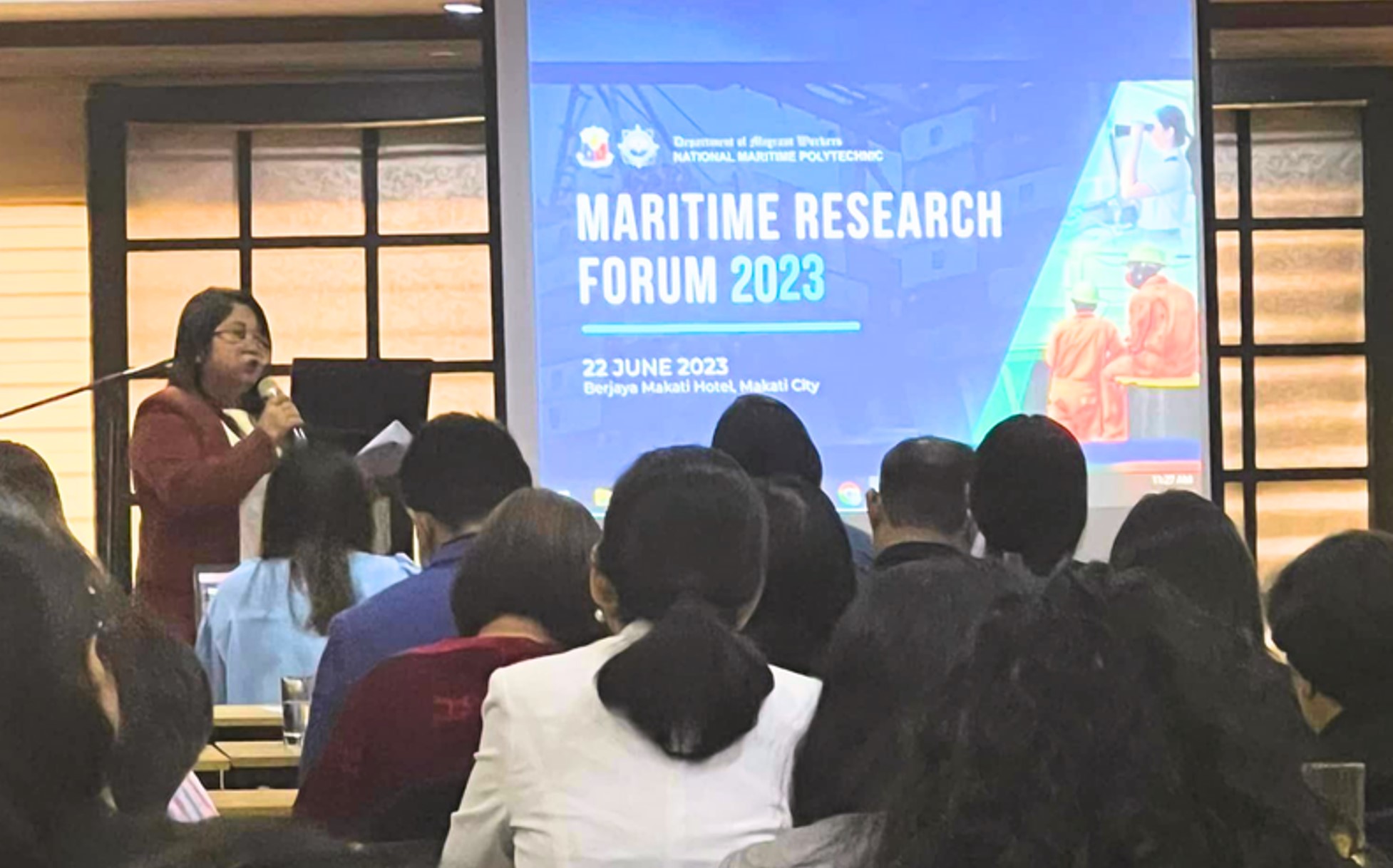 Keywords/Tags
PTC Group, Just Transition, NMP, Maritime Research Forum, Support, Sustainability, Energy Transition, Green Shipping, Environmental Awareness, Industry Collaboration