PTC Talent Acquisition Team forges partnership with FEU Manila
FEBRUARY 17, 2023
Looking for purposeful growth opportunities for the talent pipeline of the PTC Group, the PTC Talent Acquisition (TA) team continues to promote the PTC brand and forge linkages with schools for future talent pools.

In its recent face-to-face meeting, the TA team met with the representatives of the Career and Placement Office (CAPO) of FEU Manila last February 16 to further discuss partnerships and future activities with FEU which various business units of PTC can be part of.

Present were Mr. Rondell Gascon, FEU Manila CAPO Director; Ms. Shiela May Julianda, Academic Coordinator; Ms. Kathleen Faye Lazaro, Placement Services Associate; Ms. Kathleen Bernice Nubla, CAPO Graduate Assistant; Ms. Kathryn Aguirre, MSCCS General Manager; Ms. Mavyl Tobias, PTCI Shipping Cluster HR Officer; Ms. Benjie Bautista, Talent Acquisition Manager; and Chino Hernandez, TA Support.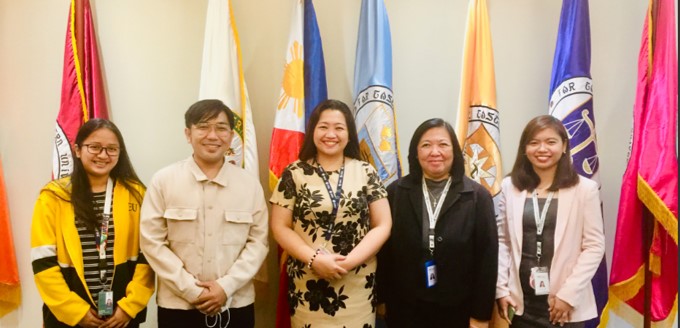 In 2022, FEU Manila was the first university that the Talent Acquisition Group collaborated with through the team's participation in the FEU Pre-employment Program.

"On behalf of the FEU Career and Placement Office, thank you very much for this fruitful meeting. We are very happy and excited about the partnership opportunities presented by the PTC TA team, as this will be very beneficial for our students. We hope to invite the PTC Group to participate in our upcoming career talks and job fairs soon," Mr. Gascon said.





Ms. Kathryn Aguirre briefly discussed the career paths available at MSC for graduating students of FEU while Ms. Mavyl Tobias shared the recent OJT opportunities and current job openings of the PTC Group.

Truly, both PTC and FEU can look forward to a meaningful partnership paving the way for more Global Filipino Professionals to move the world in more ways than one!
Keywords/Tags
PTC, Philippine Technological Council, Talent acquisition, Recruitment, HR partnership, FEU, Far Eastern University, Manila, Education collaboration, Student internships, Career development, Job opportunities, Employer branding, Campus recruitment, Skills training, Professional growth, Industry exposure, Workforce diversity, Talent management