Discovering future Global Filipino talents at La Consolacion Tanauan
FEBRUARY 3, 2023
As PTC's Talent Acquisition (TA) team continues its drive towards its mission of attracting talent, providing value, and building careers, the team strives to reach out to more schools and universities and bridge opportunities for future Global Filipino Professionals.
During the La Consolacion Tanuan Employment Readiness Training Series (ERTS) last January 25, the PTC TA team met Kenji Bandivas, one of the hosts of the activity. Kenji is a 4th-year Tourism student who dreams of becoming a flight attendant upon his graduation.
As he hosted and took part in the session, Kenji was happy to get to know more about the PTC Group and learn from the various PTC Business Unit heads who shared their expert knowledge on pursuing global careers.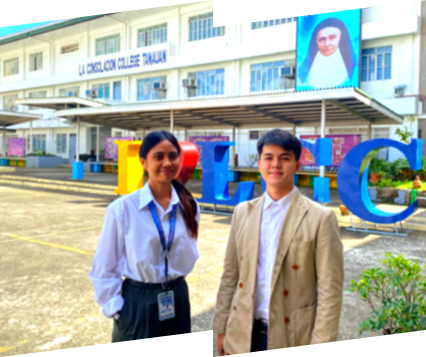 "PTC has broadened my mindset about the opportunities open to students like us. We should do our best to explore, try new things, and continue to grow!" Kenji shared. "Thank you PTC for enriching our minds, boosting our confidence, and giving us knowledge about the various industries out there like maritime and aviation. I hope to train with you in the future!"
Another candidate who is a step away from being a future Global Professional is Cheerybell Danseco, a graduating Psychology student and Kenji's co-host during the event. Cheerybell was excited to know that there is a company such as PTC that helps open various career opportunities for young Filipinos like her.
"It was an honor for us to have PTC visit La Consolacion and hear encouraging words from seasoned speakers who gave valuable advice to students like us. It was an amazing experience for me because I discovered that there are more fields out there that I can pursue as I choose my future career," said Cheerybell.

Participating in career talks is one of the many activities that the Talent Acquisition team pursues to promote the PTC brand, find talents, and provide a chance for each PTC Business Unit to introduce their services. It also helps build linkages between PTC and students across the country.

The TA team also wishes to acknowledge the various PTC Business Units who supported the career talk in La Consolacion Tanauan namely Mark Hernandez, HR Business Partner of the Shipping Cluster; Antonio Reginaldo, RTD Manager, Shipping Cluster; Roge Pepito, Recruitment Head of Jebsen PTC; and Dennis Del Mar, Lead Cabin Instructor of PTC Aviation Training Center.
Keywords/Tags
the PTC Group, careers, Global Filipino Professionals, Tourism, flight attendant, maritime, Shipping, PTC Aviation Training Center