Ambassador Carlos Salinas honored with Lifetime Achievement Award at Expo Maritime Philippines
MARCH 3, 2023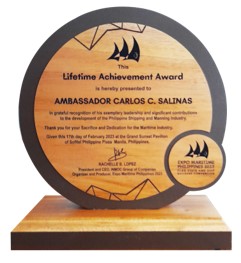 Ambassador Carlos C. Salinas, PTC founder and IMO Goodwill Maritime Ambassador, was honored with a Lifetime Achievement Award by the WMOC Group of Companies in grateful recognition of his exemplary leadership and significant contributions to the development of the Philippine Shipping and Manning Industry. The award was presented by Ms. Rachelle B. Lopez, President and CEO of the WMOC Group of Companies, and Organizer and Producer of Expo Maritime Philippines 2023, last February 17 at the Sofitel Philippine Plaza.

"Today, the industry is more than about facilitating global trade and driving economies across the world," said Ambassador Salinas in his acceptance speech. "I am delighted to see our community moving towards diversity and inclusion, and a 'Just Transition' to ensure a sustainable future for all. Together, we have begun integrating sustainable practices into shipping operations and policy formulation, that would endure the changes around us and benefit generations to come."

"I dedicate this recognition to all our Filipino maritime professionals whose sacrifices at sea remain an inspiration to me," continued the Ambassador. "They are the heart and soul of shipping and their contributions to our national economy and to the world are beyond measure."
Keywords/Tags
Ambassador Carlos Salinas, Lifetime Achievement Award, Expo Maritime Philippines, PTC Group, maritime industry, Philippine trade, awards ceremony, corporate social responsibility, philanthropy, industry recognition